What Is the 7020 Digital Positioning Board?
In actuator/valve assemblies, digital positioning boards enable users to control the operation of the actuators and valves. The 7020 digital positioning board offered at Baelz is engineered to work with E07, E45, and E66 electric linear actuators, as well as the E42 electric rotary actuator. Unlike traditional positioners, which rely on analog boards and require users to enter sequence settings manually, it features twelve adjustable DIP switches and allows users to configure it as needed to suit their process needs.
It also has a valve positioning function that allows actuators to be controlled by a 0–5 VDC digital input, 0–10 V, or 4–20 mA analog input/output signal. This function allows it to send and receive positioning signals to and from a programmable logic controller (PLC) or another type of controller. They track the analog input/output signals and compare them to the position of the actuator or valve. This function is ideal for users that need constant control signal feedback to ensure precise actuator/valve positioning.
Features of the 7020 Digital Positioning Board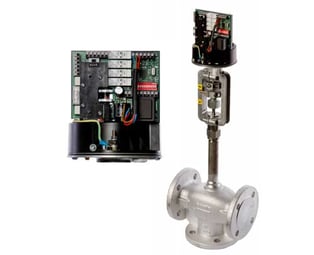 The 7020 digital positioning board is designed for simple configuration, installation, and operation. Its auto-calibration capabilities ensure it meets the minimum and maximum stroke requirements for the application. Additionally, during operations, if external power is lost and the actuator fails, it detects the error and sounds an alarm.
Other key features include:
RS485 Modbus RTU
Safe and direct control
Utilized with all 3 of our power sources:
Advantages of Using the 7020 Digital Positioning Board
Compared to other digital positioning boards, Baelz's positioner offers a number of advantages, such as:
Easier calibration. Its adjustable DIP switches can be configured in nearly any order to suit different processes. Its design is optimized to allow for simple operation. The user-friendly controls allow for use and adjustment with little hassle. Additionally, since it is integrated with the actuator and the assembly is adjusted and tested by the manufacturer before it is delivered, it can be used out of the box.
Greater positioning precision. Its signal monitoring function provides users with constant control signal feedback to help them determine if and when adjustments are needed.
Better energy efficiency. Its auto-calibration capabilities ensure the minimum/maximum stroke requirements. As a result, it has higher energy efficiency as well as greater application flexibility than other positioner models.

Contact the Experts at Baelz NA to Learn More

At Baelz NA, we are a leading manufacturer and distributor of control components. By utilizing our 7020 digital positioning board alongside E07, E46, E66 electric linear actuators, or E42 electric rotary actuators, industry professionals can streamline virtually any process that depends on precise positioning. To learn more about this product and how it can benefit your operations, visit the product page or contact us today. For pricing details, request a quote.