At Baelz North America, we are a premier distributor of control components and systems. One of our main offerings is control valves, which play a vital role in a wide range of industries and applications. The following guide provides an overview of these critical components, highlighting what they are, benefits of using them, typical applications, and assembly solutions available at Baelz NA.
What Is a Control Valve?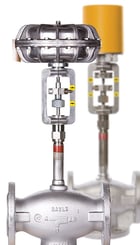 Control valves are used to regulate and direct fluid flow within a system by selectively opening and closing the fluid passages. These components help industry professionals bring and keep various process variables (e.g., flow rate, temperature, and pressure) at the proper level as well as monitor and manage a variety of product parameters (e.g., concentration, density, and liquid level).
Benefits of Using Control Valves
There are many benefits to integrating control valves in a fluid system, such as:
Increased Process Consistency: Control valves help system operators achieve and maintain the proper operational conditions, which ensures processes proceed as intended with little risk of inconsistency during and between operations.
Improved Product Quality: By minimizing or eliminating variation during and between operations, control valves can improve the consistency from product to product and batch to batch. As a result, the overall quality of products produced by the specific process is increased.
Enhanced Production Efficiency: The reduction in process variability offered by control valves helps reduce material waste since there will be fewer scrapped products that do not meet the necessary specifications or standards. Additionally, since control valves allow for precise control over a process, system operators do not have to spend as much time making adjustments to the system throughout an operation.
Reduced Energy Usage: By helping process systems achieve and maintain the necessary conditions throughout operations, control valves decrease the amount of energy required for optimal processing performance.
Types of Control Valves From Baelz
All Baelz valves feature cast iron bodes with stainless steel internal components. They are available in 2-way and 3-way variations. Below, we highlight each product's unique characteristics and applications.
2-Way Control Valves
2-way control valves have a simple design that consists of one inlet port and one outlet port. They can be used for on/off applications and variable flow applications that experience frequent changes in temperature, flow rate, and pressure.
Typical uses for these valve products include heating and cooling systems. They are suitable for handling hot oil, steam, and water.
Industries that regularly integrate 2-way control valves in their systems include:
Automotive
Food and beverage
Marine
Municipal steam
Petroleum
Wood
3-Way Control Valves
3-way control valves have a bi-directional port design. They can be used as mixing valves or diverting valves depending on the desired function. As mixing valves, they have two inlet ports and one outlet port. As diverting valves, they have one inlet port and two outlet ports.
Similar to 2-way valves, 3-way valves are commonly integrated into heating and cooling systems. However, they are the more cost-effective option if the system requires mixing and/or diverting.
Typical industries that use 3-way valves are:
Automotive
Food and beverage
Marine
Municipal steam
Petroleum
Wood
The choice between a 2-way and 3-way valve depends on the specific processing system. In many cases, a system can benefit from both 2-way and 3-way control valves positioned at different points. If you work with Baelz on a custom control valve assembly, you have access to experts engineers who can discuss all of the possibilities to improve facility efficiency and product quality.
Control Valve Assemblies From Baelz
A complete control valve assembly generally consists of a valve body, yoke, and an actuator. The valve body is the component through which the process fluid flows. The yoke is a piece of hardware that connects the valve and actuator together. The actuator is the component that provides the force needed to open and close the valve. Typical accessories include digital positioners, manometer gauge kits, and limit switches. Optimal performance of a control valve assembly within a system process, requires proper valve sizing and orientation. If the control valve assembly is designed and constructed improperly, it may not work as intended, which can lead to component failure as well as system shut-down.
The experts at Baelz have the knowledge and skills to create custom control valve assemblies for nearly any customer need. Our valve assemblies are factory built and tested to meet all of our customers needs. We offer numerous valve sizes (DN15-DN300 mm), and various actuators with different thrust strengths to handle the closing pressures at the valve. Reference the three main valve components below:
We are committed to ensuring that every customer receives a durable, efficient, and affordable solution. We'll help with component and design selection throughout the assembly process to ensure that every choice aligns with their process needs.
Contact the Experts at Baelz for Your Control Valve Needs
Need quality control valves for your facility? Baelz NA is the ideal supplier. We offer 2-way and 3-way valve assemblies with a variety of customization options. To learn more about these products, check out our technical videos or contact us today. For specific product or pricing details, request a quote.